Tribeca Technology Group were recently honoured to have been crowned 'Best Overall Business' at the highly prestigious 2021 ActionCoach BizX Awards. 
These BizX Awards honour the accomplishments, achievements, values and contributions of businesses and their owners in Europe, the Middle East and Africa. The evening is about appreciation, acknowledgement and coming together to recognise and celebrate success. The companies shortlisted for Best Overall Company strongly contended several award categories and in the judges' opinion thoroughly deserve to be a finalist for the final award of BizX 2021.
Tribeca Chief Executive, Mark Instance said of the victory, "To have been shortlisted alongside such incredible businesses by ActionCoach, an organisation I have always held in high regard, was honour enough, but to go on to be named as the Best Overall Business from a staggering 300 entries was tremendous. To be recognised by such a professional and reputable establishment is incredibly rewarding and is testament to the hard work and dedication of the entire Tribeca team".
ActionCoach said of the Awards, "In a crowded market, Tribeca Technology has achieved outstanding results, differentiating themselves from their competitors by focusing on helping and accelerating their clients' growth. This award for Best Overall Company recognises the whole team for all their hard work in delivering exemplary service, which has contributed enormously to their continued growth, even through the pandemic".
Two of our core values are 'Excellence' and 'Integrity' both of which play a part when we review our awards strategy on an annual basis. This year, with such substantial changes in working practices we thought that this awards event would be a great opportunity for us to enter and go through, in detail, all that the team have accomplished and how we have improved our business overall.
We believe that it is important to enter awards as they give us credibility and recognition. It allows us to demonstrate to new and potential clients that we are recognised by our peers for doing a great job, as well as an opportunity to highlight our comprehensive processes and the skilled teams that we have in place.
For the team, it is fantastic to be recognised as they all work incredibly hard, and sometimes in challenging situations. Having independent verification is important and acts as a sense check as well as building credibility. We don't enter awards as a vanity exercise. First of all, we  see it as a chance to motivate our employees and show that all their hard work is being recognised, as well as creating third party acknowledgment.
This award is the latest in a string of successes and developments for Tribeca who were crowned Employer of the Year at the Swale Business awards in 2018 and 2019 and have consistently been placed in the top 50 fastest growing company in Kent at the prestigious MegaGrowth awards; 16th in 2017, 8th in 2018 and 12th in 2019. We have also been acknowledged by Inspire Schools for our contribution to the Kent Literacy Awards.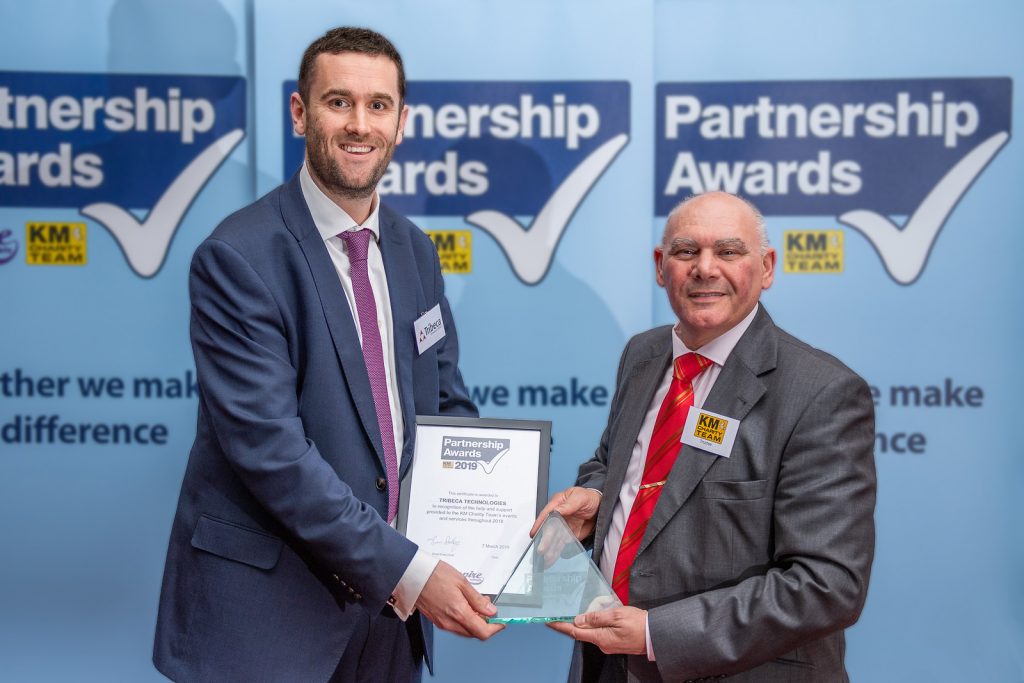 Other initiatives that drive performance
We are also extremely proud of our involvement with the B1G1 initiative and we have recently been recognised as a featured giver. From 2,500 businesses registered with B1G1, Tribeca has provided the greatest number of days of access to education across the platform in the last 12 months. 
B1G1 is a social enterprise and non-profit organisation that was established in 2007 with the mission to create a world full of giving. Tribeca first became aware of B1G1 in 2016 after searching for something they could do to make a difference to the global community and B1G1 enabled that. It provides a platform for charitably minded companies (such as Tribeca) to deliver corporate social responsibility fulfilment on a global stage.
About Tribeca Technology Group
At Tribeca Technology we offer IT support services tailored to businesses in the Alternative Investment sector. From Hedge Fund IT Support to Private Equity IT Support. We operate as your business partner and want to be seen as an extension of your business, providing consistent quality and proactive assistance to help you grow and protect your business. 
For more information on our IT support and managed services for the alternative investment sector, get in touch with us today.